I have a little secret I've been sitting on for a while that I'm dying to share...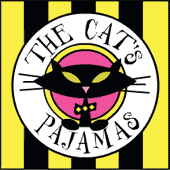 This cute blinkie means I'm a new part of
The Cat Pack at The Cat's Pajamas
! When Alma approached me recently and asked me to join then, it was an easy decision for me. I really love the whimsy and fun of TCP stamps, they are so well illustrated, smart, a little sassy and adorable too! I'm so delighted to be joining this great team! And I hope to inspire you with lots of TCP fun in the future.
For a trip down memory lane, I thought I'd pull out some of my favourite's I've designed with TCP stamps in the past couple of years. You can see why I'm so taken with them. And....if you haven't checked them out I know you'll want to!