As a person who loves colouring, I am naturally drawn to images that are either realistic and botanical, or images that are cute and whimsical. One of my favourite places for those fun styles with whimsy is
The Cat's Pajamas
; I had the pleasure of guesting with them last year, which was so fun. Today I'm excited to show TCP off a little to you!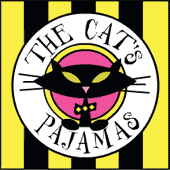 AND....it's an extra-fun day today! It's my turn at the
CardMaker Magazine Blog
to give something away! The Cat's Pajamas has generously donated a $25 gift certificate to the winner. All you have to do is comment here to win, please leave your email address so I can contact you if your name is chosen.
And here's a little TCP inspiration I made for you today that shows off just how cute these stamps are.
I have a very particular affection for this character....Mr. Bun Bun :) Those ears just get me every time! This set is called
Away We Go
. How can you resist those big bunny ears in a hot air balloon? I coloured him up with Copics to match this very fun MME paper - Come Away With Me. It's the perfect match with the travelling theme...and hot air balloons in the background.
The sentiment flag is also a part of one of the pages of DP, and I accented with some sewing and fun little buttons and twine.
So, leave a comment here, and I'll draw a name June 28th by 11 pm MTN Time, and you can claim your TCP Prize!